Description :
The temple at Doi Saket is similar to the Doi Suthep Temple, yet smaller in size. The temple's
chedi
, or stupa, glistens in the sunlight with both gold and silver. It is actually composed of a building that you can enter with the dome mounted on top. Inside, you'll find a passageway to circumambulate the sacred relics kept here. The entrance to the temple (as is the case at Doi Suthep) has a steep set of stairs leading to the temple. The most prominent feature of the Doi Saket Temple is the giant golden sitting Buddha (Phra Buddha Pathimakorn), visible from the road leading to the temple. The interior walls of the temple are decorated with modern spiritual murals, painted by Khun Chaiwat Wannanon. There is also a monastic school located on the grounds of the temple. There is a Chinese-style pavilion containing a shrine to Guan-Yin, the Bodhisattva of Compassion. As the East Asian version of Avalokiteshvara, Guan-Yin is technically part of the Mahayana pantheon and doesn't play any official role in traditional Theravada Buddhist practice. Yet, the influence of China upon Southeast Asia is so strong that you'll find
Guan-Yin at many Thai temples
, where she's worshiped just as much for good luck as she is for striving to accumulate virtue. The Chedi features the relics of Buddha and a
Golden Umbrella
.
Aerial Photos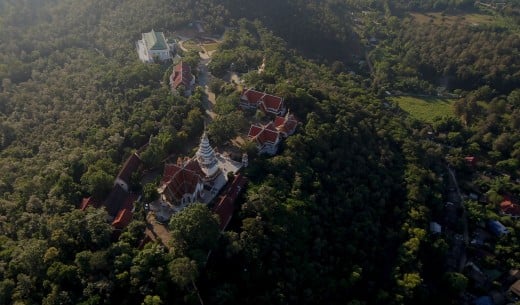 Etiquette
When you visit any temple, or government office in Thailand, you are expected to dress appropriately. Proper dress includes wearing long pants or trousers, with a sleeved shirt as apposed to shorts and sleeveless shirts. Women should dress conservative, without displaying skin, short skirts and tank tops are frowned upon. You will also be asked to take off your shoes before entering the temple, you will see hundreds of peoples shoes in a pile at the entrance. Once inside the temple, you should make sure not to offend anyone, keep your voice down and try to not to cause any disruption to other people. There's a cute little coffee shop near the parking area if you need a refreshment.
Photography
All the photos and video of the temple that you see in this article are taken by "Heli-Asia", using their remote controlled helicopter with remote
camera mount
. The helicopter traveled to over 100 meters above the highest point of the temple and hovered there using a sophisticated flight control system that allows the helicopter to remain at the same altitude for a long period of time. The camera mount is controlled remotely from the ground, and there is a live video feed showing the viewer of the camera. It takes 2 experienced technicians to operate the helicopter and the camera. Using a series of still photos taken at various different angles, Heli-Asia also created a spherical image of the temple, the temple grounds and the Doi Saket district.
Websites :
http://hubpages.com/travel/doi-saket